The charm of the Tall Ships Races lies in the wide range of different ships that can take place in the competition. All ships are divided into different competitive classes according to their type and size.

The Tall Ships Races is open to all single-hulled vessels that meet the criteria below:

• The ship must have a waterline length of at least 9.14m

• At least 50% of the crew onboard must be comprised of trainees - that is to say, young people between 15 and 25 years of age (with or without previous sailing experience)

• The ship must meet Sail Training International's safety requirements.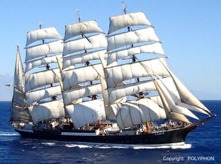 All square-rigged vessels and all other vessels over 40 metres LOA
Traditionally rigged vessels with an LOA of less than 40 metres and with a waterline length (LWL) of at least 9.14 metres.
Modern sailing vessels with a LOA of less than 40 meters and with Bermuda sail rigging.
Modern sailing vessels with a LOA of less than 40 meters with spinnaker-like sails.
Lenght Over All (LOA)
This indicates the maximum length of a vessel's hull. The line of measurement must be perpendicular with the waterline. This is the most commonly used method to express a ship's size.Bowsprits and other armatures attached to the hull are often excluded from this measurement. To be completely sure, you can clarify this when calculating the mooring line length.

Loaded Waterline Length (LWL)
This indicates the total waterline.